Since 1965, UTCA has been the leading voice for New Jersey's utility and transportation construction industry in Trenton and Washington, DC.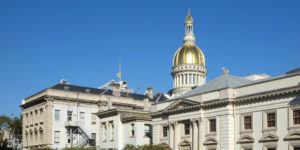 Whether providing expert testimony before business and legislative groups or directly influencing the legislative process, UTCA stands alone in its record of achievement for our industry. UTCA has successfully challenged unfair bidding practices and other government action detrimental to infrastructure construction, and fostered a number of legislative measures that have bolstered capital funding and improved conditions for contractors in such areas as retainage, bidding procedures, changed conditions, management of projects, and statute of limitations.
UTCA is also affiliated with several national coalitions, including the American Road and Transportation Builders Association (ARTBA) and the US Water Alliance, and is one of the founding members of both the national Clean Water Construction Coalition and the Construction Industry Advancement Program of New Jersey (CIAP).